Graphene Window Coating: Artdeshine Graphene Coating
Artdeshine graphene coating is proven to decrease water-spotting, prevent bird droppings, dead bugs, tree sap, and harsh chemicals damage and more. This new graphene window coating provides a wet, glossy look, much more easier cleaning and enhances reflectivity, and has both UV resistance and anti-fouling properties. Graphene is flexible and used for quite a lot of things – it is the strongest material ever known to man – graphene is about 200x stronger than steel, yet, it is very light, thin, and flexible. We've seen graphene being used in making fabrics, car body waxes, medical treatment gears, etc. Today, we are going to discuss how you can treat your car windows with Graphene Window Coating to strengthen them and make them shine.
Artdeshine Graphene products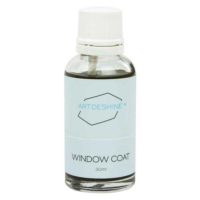 Artdeshine has discovered the unique properties of graphene and how it is perfect for making automotive care products. Graphene increases tensile strength, durability, as well as the flexibility of any surface it is applied to. The Artdeshine's Nano Graphene coating reduces heat absorption – heat is the main reason why you see those nasty water imprint spots on your car body or windows. Also, graphene coatings provide chemical resistance and protect paintworks from tree sap, bird droppings, and other chemical substances.
Artdeshine is popular for manufacturing unique automotive care products that increase the gloss of your car, as well as offer some level of protection on the surface applied. Artdeshine's Graphene Window Coating is another great product that contains graphene to fortify your class windows and make them shine. However, graphene, on its own, doesn't disperse so easily in a liquid; it requires additional force and staunch skillfulness to be able to dissolve in liquid formulas. Thus, Artdeshine utilizes special techniques in preparing its graphene coatings for automobiles.
Graphene Window Coating
Washing your car windows will definitely keep them clean at all times, but it won't make them shine or increase their tensile strength. There are other types of Car Window Coatings out there, but none of them proves to be better than Graphene Windows Coating. Graphene has quite a lot of outstanding properties that make it a sought-after substance to be used in making different car coatings.
Interestingly, Artdeshine's Graphene Window Coating achieved the best shine and protection for car glass. This is the latest graphene glass coating available in the market today. Eventually automobile enthusiasts will start to switch to this new graphene nano coating.
Why Choose Graphene Window Coating
Graphene, even at its raw form, is very strong and has high tensile strength. When graphene is added into polymer (PDMS) coatings, which are also highly tensile, flexible, and strong – graphene helps to fortify these properties, as well as increase conductivity. Also, graphene promotes low-surface friction, high-slickness, and abrasion resistance. It is apparently the best raw material for making automotive care products, and Artsdeshine understands this fact.
How to Apply Graphene Window Coating
Firstly, you have to clean up the car glass where you want to apply this formula
Glasses are naturally porous, so you need to clean the dirt and oil that may hide in the pores – use a cleaner and scotch bite pad to clean the glass surface
Shake the bottle containing the Artdeshine Graphene Window Coating formula, uncork the top and remove the plastic insert
Apply Artdeshine's Graphene Window Coating to the brush and administer it to the car glass in a crisscross pattern from left to right.
Use microfiber towels to wipe off the coating after applying it to the full windscreen or side glass.
You will see that your car glass is shinny and not showing any rainbow signs like it would show if you used SiO2 coatings.
This video explains the detailed processes of applying Graphene Window Coating – watch